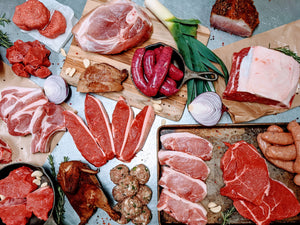 Top Quality & Huge Variety!
Truly Grass-Fed, Pasture-Raised Meat & Eggs
FROM OUR FAMILY TO YOURS
Stillman Quality Meats
Hardwick, Massachusetts
How it works
1. Create or log-in to your account
1. Shop our online store
2. Choose home delivery or a pick-up site
SHOP NOW
Good Meat is not manufactured or produced-
It's raised.
We nurture all our animals by hand with a lot of care. Our beef and lamb are 100% grass-fed, and our pigs, chickens, and turkeys are raised on pasture and fed all-natural, supplemental grain grown locally. All our animals get to run and root around outdoors the way nature intended.
• Pasture-raised
• Sensitive, humane handling
• No antibiotics 
• No growth hormones
For the love of farming
SQM is a woman-run farm owned and operated by me, Kate Stillman. As a third-generation farmer, I know firsthand how amazing a steak can taste when the cow's been raised entirely on grass under sunshine and blue sky. Or how exceptional bacon is when it's slow-cured with just salt and sugar and smoked over REAL wood chips. I'm passionate about sharing really good food raised humanely. I can guarantee our meats are unlike anything you've ever tasted from conventional sources.
We're a farm & Butchery
We're one of a small handful of farms across the US that butchers and processes everything ourselves in our state-certified facility right here on the farm. Our animals never travel to be processed, so they're less stressed. You get the most humane, sustainable and safest path to the best-tasting meat. Unique, custom cuts available—including custom sausages and charcuterie!
Join the family
Become a Meat Bucks member and save 10-20% on all our meat and farm products, plus locally sourced cheese, bread, seafood, and more. It's our version of a CSA with a whole lot more flexibility and convenience.
Meat Bucks Membership
Where to Find Us
Farmer's Markets
Our Markets
Worcester Butcher Shop
Worcester Butcher Shop
Hardwick Farm & Butchery
The Butchery